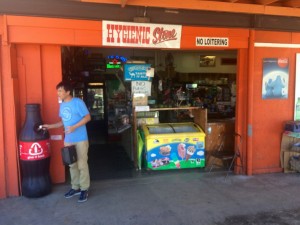 I've declared victory over the bedbugs too soon, it seems. Perhaps I just jinxed it! So, we're asking the landlord to bring in an exterminator. I've no idea what the exterminator does, but I have great hopes….
Today was our Preparation Day. Nina spent the morning going through a few of the sister missionary apartments checking out their kitchen kits … table ware, plates, bowls, glasses, other utensils, etc., in the process of getting all the apartments properly and similarly equipped. While she was doing that I tended the laundry and cleaned the bathroom and kitchen. After lunch we decided to take a drive south towards but not into Honolulu and stop wherever we saw anything interesting. This 'Hygienic Store' was one of those stops. It's a very small but jam packed convenience store at a rather important junction on the north shore road. The name is certainly an anomaly. It wasn't very clean, but definitely had plenty of stuff inside! We left with a bottle of water (for Nina), a Twinkie, and a candy bar (for me). Just down the road is a small shopping center with a McDonalds, so we stopped there for two ice cream cones and a Diet Coke (for me) before turning around and heading back towards Laie.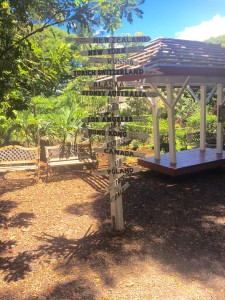 One place that we've driven by numerous times is "The Macadamia Nut Farm Outlet". Today we stopped and found a nice parking spot under a tree. The hot humid weather continues and parking under a tree and some shade is indeed a blessing. The place turned out to be a store packed with every possible method of packaging a macadamia nut: breads, candy bars, snack packs, energy bars, garlic, honey, or cinnamon roasted, ice cream, coffee, and dozens more. Check the link for detailed information. Outside the store was this signpost. Nearby were four huge tour busses and the store was packed with people from Japan, China, and Korea all happily spending money buying all kinds of macadamia treats along with cheesy souvenirs, as well as lined up to use the restrooms (I think these big tour busses have a restroom on board, but most folks prefer using something that isn't moving around. I'm pretty sure a couple of women spent the entire time the bus was stopped standing in line for the women's restroom. I also saw a fellow assist his wife/girlfriend into the men's room and a stall as she wasn't going to be able to wait any longer!). We didn't spend any money at this stop and probably won't stop there again unless we have company who really, seriously want macadamia nuts.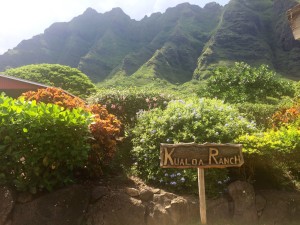 Coming back towards Laie is the Kualoa Ranch. This place is a major tourist attraction. Several movies have been set on this ranch, including Jurassic Park. There are a lot of tourist options including ATV tours, a zip line, horseback tours, bus tours, overnight camping tours, and different themed tours. The parking lot was jammed and the bus parking area was full as well. This place does a major tourist business, for sure.
We were interested in what things were available (I think the two-hour ATV tour would be a lot of fun) and what kind of money does it cost. The prices seemed reasonable, for a Hawaiian tourist attraction. It would be a place I'd recommend to visitors as well. Our Ward's young men recently had their high adventure camping trip at the Ranch and had a great experience.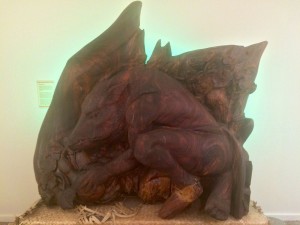 The Kualoa Ranch had a small, but very interesting museum telling the history of the ranch. One of the displays was this carving of a kamapua'a … an entity from Hawaiian folklore who can be either a hog or a person. The carving was very intricate and beautifully done.
I'm just beginning to learn a bit about the Hawaiian folklore and legends and find them very interesting. The Wikipedia article shows how fractured the Hawaiian folklore is as the stories are quite different depending on what part of Hawaii the story comes from.
We had a nice, unhurried afternoon followed by a delightful Skype chat with Jared and Tania in Seattle. Jared's birthday was last week so they had gone camping over the weekend in celebration. They had a great time and had some fun stories from the weekend. Happy birthday, Jared! Enjoy your last year in your 30's … !!
Life is delightful.