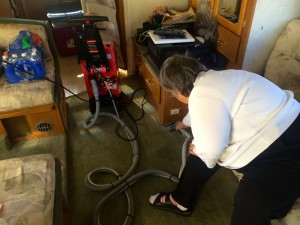 The motorcycle is now at a different service center. The Kawasaki mechanics couldn't figure out what was wrong and said the bike had never failed for them. It fails for me every time, so I don't understand that. It's now at the Honda place and we'll see what those mechanics come up with. The potential buyer definitely still wants the bike. The Honda folks say they won't be able to look at the bike until Tuesday. So, we're here for at least one more week. With any luck at all, they'll figure it out on Tuesday, have it fixed by Wednesday, and we can deliver it on Thursday.
Well, that just gives us time to do some of the little things. Things like cleaning the carpet in the motor home! It doesn't take very long, but lots and lots and lots of very dark water came up. We've also been consolidating down to the stuff we'll be taking with us on the trip out east, south, and west. On Monday we'll take a bunch of stuff to the storage unit and do some reorganization. When we come back through in February, we'll need to pack up what we'll take to the Mission Training Center and then box up what we'd like to ship over to Hawaii to be there when we get there … thinks like a TV and some of my ham radio equipment…. Getting it ready now means we will have less to do in the February winter weather.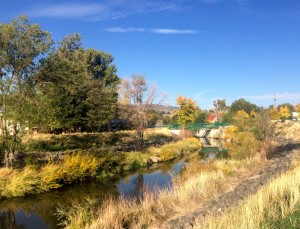 It also gives us some time to enjoy the fabulous fall weather we're having here in southeastern Idaho. With high temperatures in the mid 70's, little or no wind, and clear, blue skies, the weather couldn't be more perfect. We'll probably think this is cold weather when we get back from Hawaii! So, we'll enjoy it while we can. Hopefully it can continue for another week.
Tomorrow is Sunday. After Church we'll go over to Soda Springs to visit with my mother. We try to get over every Sunday, if possible. She's doing as well as can be expected. She'd like to be doing a whole lot better, however! She's fairly feisty at times.
Life continues to be very good!