Today is Thanksgiving … and a very wet one at that! Traditionally, the locals go to the beach on Thanksgiving. However, a low pressure weather system is moving through the islands and we've been having a lot of very drenching rain. But, that didn't affect our Thanksgiving!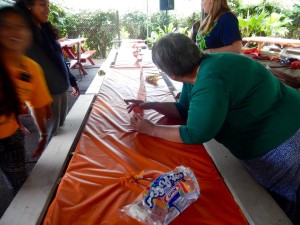 The owner of Tita's Grill in the neighboring town of Kahuku prepares a Thanksgiving feast for all of the missionaries, the residents of a local senior citizens home, as well as any of the homeless in the area. This year they prepared 3,200 pounds of turkey and ham along with mashed potatoes, rice, gravy stuffing, and breads. The senior missionaries are to bring either a salad or dessert. There are about 90 senior missionaries here along with about 34 young missionaries (elders and sisters). The young missionaries serve the meal as part of their service.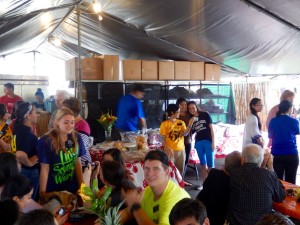 In addition to the feast, a band consisting of a couple of guys with a great sound system, came over to provide the music during the meal. I really enjoyed their music as well as the conversation with those sitting around us. I suspect there were about 120 or more people there for dinner. In addition to the people who come to Tita's Grill, the owner sends thirty turkeys south to Kaneohe and another thirty west to Mililani for the homeless shelters. They do an amazing amount of good each year for Thanksgiving!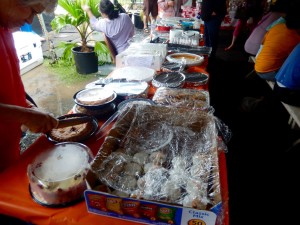 Most of the senior missionaries brought dessert while a few brought some kind of a salad. The dessert selection was excellent so I was able to have dessert before dinner, then have dinner, and then finish up with pumpkin pie loaded with whipped cream. Very nice!
Recently the Ai'u family, owners of Tita's Grill, opened up a new food truck at the Hukilau Market Place at the Polynesian Cultural Center. They have a huge reputation and the new location is doing very well, which is a Very Good Thing. The lease on their place in Kahuku is doubling in February, probably making it impossible to to continue operating in their current location. The corner where their establishment is located is very prime real estate. That probably means this five-year tradition of providing a Thanksgiving feast for all of the missionaries and the homeless and less fortunate in the area will come to an end as well.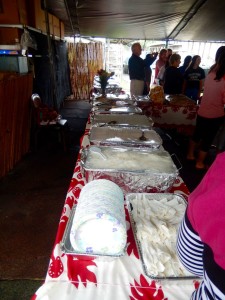 There were two serving lines set up and everything moved very quickly. Meanwile, the skies were open with drenching rain falling all around us during the meal. When we finished and were ready to leave, huge ponding out in the parking lot meant soaking wet feet trying to get out to the car.
We are so very thankful to be here on a mission. We so appreciate the love and support from our family while we're here as well. We work with a bunch of amazing people … the sister missionaries (who have become almost like daughters) … the Visitors' Center Director and his wife, Elder and Sister Priday (who do a fantastic job of keeping the Center running smoothly and providing a sweet, serene place for our visitors) … and the other senior couple at the Center, Elder and Sister Jensen. They are kind of like our complement as we work on opposite shifts. They've done a wonderful job of getting the Center decorated for the Christmas Season, which for the Center starts on Sunday morning when I switch the background music inside the Center and out around the fountain to Christmas music.
Nina has a very applicable saying posted on our fridge:
Piglet noticed that even though he had a very small heart, it could hold a rather large amount of gratitude (A.A. Milne).
I resemble that today. Thank you all!